CL45 Stereo Zoom Microscope
The CL45 Stereo Zoom Microscope has good optical and mechanical build quality and offers excellent price:performance value when compared to top branded models . This system is sold worldwide and has proven its value and reliability for industrial and scientific applications. 
The CL45 Stereo Zoom Microscope has a zoom ration of 6.4:1 and includes a built-in phototube to accept any C-mount (or CS-mount) camera. A selection of stands are available offering both transmitted and reflected illumination.
As standard the system comes with WF10x eyepieces and has zoom magnification of 7x -45x. The range of alternative eyepieces and supplementary lenses extends the magnification range from 3.5x to 180x. 
We offer a range of cameras that work well connected to the phototube. The Watec PAL cameras are tried and tested and the images would look good on a 10.4" LED monitor. The HDMI camera gives excellent images on a 21.5" LED monitor and can be connected to a computer for image capture if required. It gives live detailed images at 2 MPixel resolution.
Our 3 Mpixel or 5 Mpixel USB2 cameras offer additional features such as image capture and measurement but must be connected to a computer. Lastly our VGA camera connects directly to ANY VGA monitor and has image capture directly into a USB memory stick attached to the camera.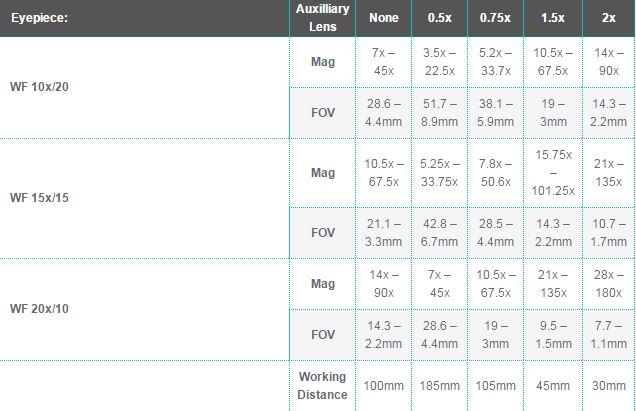 In addition to an LED base, which accepts our mechanical or measuring stages, there are LED ring lights or a 24 watt LED Light source with twin light guides to give controlled white side lighting.
Stands:   Further Data
Pole Stand
LED Base with LED Incident Light with intensity control
Boom Stand
Articulated Arm Stand
Lens Attachments:
0.5x, 0.75x 1.5x and 2x
CCTV Adapters:
0.3x for c-mount cameras
0.5x for c-mount cameras
Eyepieces:
10x (as standard), 15x, 20x
Illumination:   Further Data
LED Ring Light with intensity control
24 Watt LED light source with twin gooseneck light guides
Stages:    Further Data
Mechanical Stage
XY Stage with 25mm digital micrometers
Cameras:    
PAL High Resolution    Further Data
HDMI       Further Data
Truechrome HD     Further Data
USB2 Camera    Further Data