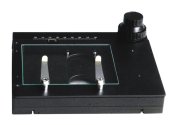 Mechanical Stage
One of our mechanical stages for microscopes and video microscopes. This mechanical stage aids fine movement in X and Y axis and is an essential tool for medium to high magnifications. Fits  our Track and Pole stands plus other makes that have a 95 mm contrast disc. Fitted with stage clips and a glass plate. Also suitable for stands with sub-stage illumination. It is possible to add an LED substage light. Please see our illumination page
Ball bearing rack system
Dimensions: 180 x 155 x 26 mm
Glass size: 116 x 96 mm
Travel: 75 x 55 mm
XY Gliding Stage
A substantial XY Gliding stage for microscopes and video microscopes that are mounted on boom stands. This XY  Gliding stage measures 440 x 290 x 36 mm and moves freely in the X & Y axis making it ideal for easier inspection of larger objects and hence increases efficiency. 
Precision machined bevel cut gearing allows fine, controlled movement along the entire 300 x 200 mm travel in the X-Y axis. Glass back light window 19 x 14.5 mm. Black anodized finish. 
A separate LED back light is available with rheostat dimmer. Please ask for details.
Microscope Measuring Stage
Microscope measuring stage with 25 mm measuring in X and Y axis. This microscope stage is a useful low cost means of adding an accurate 2 dimension measuring capability to a microscope or video microscope. Using a cross hair that can be generated by modern cameras such as our HDMI or VGA cameras, the operator is able to measure the stage movement and thus make X & Y measurements from the digital micrometers. With a central glass plate this stage is suitable for stands with sub-stage illumination. LED illumination can also be added with our 2" x 2" LED panel. Please see the illumination page
Dimensions: 160 x 123 x 21 mm
Travel range: Horizontal 75 mm, Vertical 55 mm
Readout Precision: 0.001 mm
Net weight: 2.5 kg